Car Service & Car Repairs on the Mornington Peninsula
Fully Qualified Mechanics
-
12 Months Nationwide Warranty
-
Only Quality Parts and Oils Used
Looking for car service and car repairs anywhere on the Mornington Peninsula? No worries! You've got a Lube Mobile anytime you need help!
If you're living or working anywhere on the Mornington Peninsula and you need some help, the easy way to get things done fast and properly is to just contact Lube Mobile when you need car service or car repairs. You can expect to get the best service in the country, right at your place!
When you really want Australia's best - Get Lube Mobile!
Our mobile mechanics are the best in the industry. Aussie drivers know Lube Mobile, and they like to know that they can always get quick, top quality dependable service anytime they need it. Whenever you need some work done on your car, it's easy to book with us online. All that needs to be done is to just complete a form, and we'll do the rest. Just tell us what you need, when you need us to come out to your place, and we'll get things organized for you.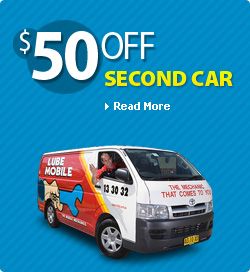 Do you need:
Top expert standard quality car repairs at your home or work whenever
you need them?
All kinds of regular and routine car service, anytime?
A complete quote, with no added expenses or other costs at all?
Top quality professional conduct and workmanship?
Easy bookings, with no waiting and no hassles?
Great friendly local service anytime you want it?
A real crisis job done now? Contact us today and we'll get you back
on the road!
The best quality parts and components?
All car system work and repairs jobs?
A national 1 year warranty?
You can book online and we'll be there for you when you want us.
Want a Quote? Just Click Here for online quoting
Suburbs we service
Other areas we service
Please click on the links below to find suburbs we service in these areas. If you can't see your suburb listed, contact us and we'll locate the nearest Lube Mobile to you!
Victoria
New South Wales
Queensland
South Australia
Western Australia