Mobile Mechanic Melbourne - Car Service & Repair Melbourne
Fully Qualified Mechanics
-
12 Months Nationwide Warranty
-
Only Quality Parts and Oils Used
Welcome to Australia and Melbourne's largest and favourite mobile mechanics ! Growing strong and remaing at the forefront of innovation in Automotive Servicing.
Choose a local mobile mechanic in Melbourne for your next scheduled car service or repair and discover the convenience of a fully qualified mechanic working to your timeframe and needs. Our vehicle technicians can complete a premium car service in Melbourne, on-site car repairs, or programmed vehicle maintenance at a preferred time and place that's right for you.
If you know the frustration of trying to coordinate a schedule around your mechanic then why not try a Lube Mobile mobile mechanic Melbourne and have your regular service or maintenance performed on-the-spot instead?
Lube Mobile is the mechanic that comes to you. Our fast and easy online quoting system, and interactive, live booking times offers you flexible locations and availabilites which fit in with your time - not just your mechanic's schedule.
Our technicians are equipped to complete a range of vehicle service work, repairs and maintenance wherever you might be. Our mechanics arrive on time – at your house, at your office, or even at your holiday destination – and we make sure that we have the right equipment and the expertise to see your car back out on the road in next to no time at all.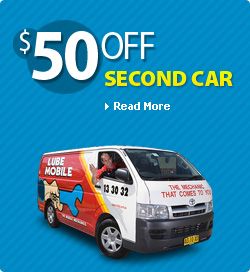 Lube Mobile Melbourne provides premium vehicle service and maintenance:
Our services and repairs come with a nationwide 12 month warranty.
Lube Mobile is a member of VACC and proudly follows its guidlelines
We only use the highest quality standard parts and oils
Use our call-out repair for quick fixes needed now saving a tow.
Ask us for a comprehensive quotes on services and repairs – either online, phone or in person.
We offer you a fast and easy online booking in real-time for arrival times.
When you book your next car service or repair choose our quick and easy online booking facility. Select the time and place that best suits you and we'll be there when you need us. Or simply enter your postcode in box above to see when we can arrive.
Want a car service quote first? Just Click Here for an online quote
Melbourne Mechanic Reviews
- Real Customers, Real Comments
"Mechanic provided quote for me and I have rebooked another appointment. I think your service is the best and I would not consider taking my car to a mechanics premises ever again" Lesley, Honda Brake Pads in Melbourne
"Mechanic was very friendly and took care of every step in the repair. Highly recommended. Elio, Jeep Radiator in Melbourne
Spoke with Kaz who carried out the repair. He was knowledgeable and friendly. I will be booking in a full car service with him in the near future. Thank you Lube Mobile Chey, Ford Falcon Battery in Melbourne
Just want to say Aaron was brilliant he turned up on time and was thorough in his assessment. No actual repairs were done this time but as I explained to Aaron we should be in to do that in a couple of weeks time. I have his number and will contact him when we are ready to go ahead. Thanks Aaron A1 mechanic. Robert, Ford Repair in Melbourne
I have to say my customer service experience was nothing but exceptional from my first call to book an appointment to my keys being handed back at the completion of work by your mechanic Chris. The girl who booked my appointment t was very helpful and friendly a pleasure to speak with. I was well informed with emails and text messages regarding confirmation of quote appointment time etc. Chris your mechanic arrived o on time very friendly and listened to my concerns with my car. He addressed all my issues and My car is now running beautifully I could not be happier with how I was treated as a customer and wil ill definately use your company in the future . I will highly recommend Chris and your company to all my family and friends. Ella, Kia Logbook Service, Melbourne
Suburbs we service
Areas in Melbourne we service
Please click on the Melbourne links below to find suburbs we service in your areas. If you can't see your suburb listed, contact us and we'll locate the nearest Lube Mobile to you! We service the greater Melbourne region and some outlying areas - so please ask ! From Geelong, right around the Melbourne bay to Portsea we have you covered to perform your car service.
Victoria
New South Wales
Queensland
South Australia
Western Australia