Mobile Mechanic Brisbane - Car Service & Repair Brisbane
Fully Qualified Mechanics
-
12 Months Nationwide Warranty
-
Only Quality Parts and Oils Used
For your next scheduled car service or repair, choose a local mobile mechanic Brisbane from Lube Mobile. We offer you the services of a fully qualified local mechanic who works to your time at a destination which you specify. Our technicians will perform a complete premium car service Brisbane, car repairs, or minor vehicle maintenance at a preferred time and place that's perfect for you.
If you have experienced the trials and tribulations of attempting to coordinate your schedule around your mechanic's timeframe then you already know that a Lube Mobile mobile mechanic Brisbane available at your place of work or at your home is a much more convenient option. Our mechanics perform everything you need on-the-spot and on time.
Lube Mobile is the mechanic that comes to you. Choose our fast and easy live online booking system to select a flexible location and booking time that will match your availability and not your mechanic's schedule.
Our technicians arrive at your chosen destination equipped to perform a range of vehicle services, repairs and maintenance. Our mechanics can see your vehicle at your house, at your office, or even at your holiday destination. We'll make certain that your car is back out on the road in next to no time at all. Written quoatations prior to repairs beginning for your peace of mind.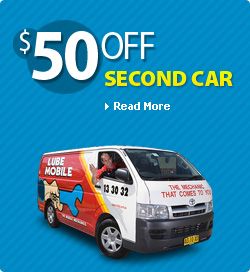 Why choosing Lube Mobile's Brisbane mechanics is the right choice for you:
Lube Mobile's services and vehicle repairs come with an Australia-wide 12 month warranty.
Lube Mobile is a member of Motor Traders Association of Queensland
We can sign off on your Log Book Services without affecting your statutory warranty.
Lube Mobile mechanics will only use the highest quality standard parts and oils.
We offer quick call-out repair service for fixes needed now- stuck at home ?
We offer you comprehensive quotes on services and repairs - in person or online.
We offer you a fast and easy live arrival time booking facility.
When you book your next car service or repair choose our quick and easy online booking system. Select the time and place that best suits you and we'll be there when you need us. Please enter your postcode in the blue section above and see how easy it really is !
Want a Quote? Just Click Here for our great online quoting system.
Brisbane Mechanic Reviews
- Real Customers, Real Comments
I have used Lube mobile a few times over the years and always found the customer service of very high quality. Mechanic Taylor was no exception and provided excellent service and wouldn't hesitate to recommend him to my family and friends when booking Lube mobile. Top job completed by a top mechanic!! Thanks Taylor and thank you Lube Mobile. Sam, Holden Commodore Service in Brisbane
In true fashion Justin always go beyond the call of duty with his no nonsense upfront approach to get the job done right. Nothing is skipped or overlooked. Another fine example of Lube Mobile needing Justin and not Justin just working for Lube Mobile. Great job . Jason, Kia Service in Brisbane
Work done was very satisfactory and the mechanic was definitely competent and experienced. John, Kia Repairs in Brisbane
I was impressed at the ease of doing business and the pre-written quote was excellent. Stephen, Ford Starter Motor in Brisbane
I was absolutely stoked with my experience through Lube Mobile- Leslie on the phone and Peter the mechanic were kind helpful and explained everything to me :) Leslie was understanding of my situation and Peter was early to arrive and very friendly and efficient. I will be using this service again definitely and recommending to friends and family! Holden Log Book Service in Brisbane
Thank you to Mark who did an excellent job and was very convenient. We will use your services again. BMW Alternator Repair, Brisbane
The whole Lube Mobile experience ran like clock work . Stu called me as arranged at my last service to remind me it was time again. He had a time slot put aside for me a couple of days later. Turned up at the address I wa was working at right on time. Carried out the service while I continued to work. No down time for me. Great service. Thank you . Paul, Mitusbishi Service, Brisbane
The two mechanics that were sent out to me were fantastic. Extremely helpful they were very friendly and explained each step of what had made me break down and how to prevent it in the first place. I am definitely going t to be recommending Lube Mobile to people. Tamieka, Ford Falcon Repair, Brisbane
Suburbs we service
Areas other than Brisbane we service
Please click on the links below to find suburbs we service in these areas. We service the vast majority of the greater Brisbane area - If you can't see your suburb listed, contact us and we'll locate the nearest Lube Mobile to you! Call 13 30 32 for prompt assistance.
New South Wales
Queensland
Victoria
South Australia
Western Australia