Lube Mobile's mobile mechanics come to you for all car services and car repairs including alternator replacement.
Our fully qualified technicians arrive on time at the place which suits you the best. We arrive fully equipped for your vehicle repairs, maintenance and service needs so you don't have to organise alternative transport or work to your local mechanic's workshop schedule.
We can schedule for your local mechanic to meet you at home or at work – even on your holidays so you're back on the road as soon as possible!
If you're having issues starting your car then you might need someone to take a look at the alternator. Common signs of trouble with your alternator might include:
Engine not turning over?
Charging light on?
Car flat-out not starting at all?
Noise under the bonnet ?
New battery goes flat ?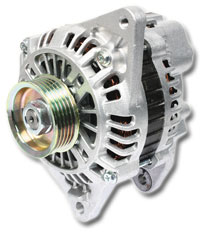 If you're having this trouble with your alternator Lube Mobile offer vehicle mobile mechanics for the time and place which suits you. We perform our alternator repair and alternator replacement on-site and on time.
We'll test your alternator charging rate
Test your battery
Check your starter motor and starting system
Check and adjust the drive belt
Inspect pulleys and tensioner condition
Using our online booking form, we need only a few pieces of quick information from you about your car's make, model and year. In moments you'll have a live arrival time and a place booked in, as well as an alternator cost along and booking confirmation number for reference.
We use only the highest quality replacement parts and spares – no exceptions! All of our service work and repairs come with a nationwide 12 month/20,000km warranty so you can rest easy if you travelling interstate.
If you're looking for the most convenient and highest quality repair work for your vehicle, contact Lube Mobile now. Any question please do not hesitate to call us on 13 30 32 for friendly asistance.
Alternator Replacement Reviews


The mechanic that came out to repair our car was exceptional. He was friendly, knowledgeable and explained everything that needed doing before he commenced the work. Because of the service we received from Michael we will definitely use Lube Mobile again and recommend your service to others. Michael is a credit to your company.
Aaron, Ford Falcon, Supply & Fit Alternator
Very satisfied the way Lube Mobile attended to my problem. Very efficient and the Service Mechanic was helpful in every way!
Tony, Holden Commodore, Supply & Fit Alternator
This was the first time we have used Lube Mobile as we were in the position of needing the car fixed quickly and we could not get it to another location. The whole experience was so impressive we will be trying Lube Mobile for our next general car services!
Gordon, Nissan Pulsar, Supply & Fit Alternator
The mechanic that came out to repair our car was exceptional. He was friendly, knowledgeable and explained everything that needed doing before he commenced the work. Because of the service we received from Michael we will definitely use Lube Mobile again and recommend your service to others. Michael is a credit to your company. Aaron, Ford Falcon, Supply & Fit Alternator
Very satisfied the way Lube Mobile attended to my problem. Very efficient and the Service Mechanic was helpful in every way!
Tony, Holden Commodore, Supply & Fit Alternator
This was the first time we have used Lube Mobile as we were in the position of needing the car fixed quickly and we could not get it to another location. The whole experience was so impressive we will be trying Lube Mobile for our next general car services!
Gordon, Nissan Pulsar, Supply & Fit Alternator
Great service as always. My mechanic Dillion has done some extensive repairs on my Holden HSV he is fantastic he explains everything in detail so I know exactly what's happening. He is always well presented and very polite. Seriously I would be lost without him. Tanya, Holden Alternator, Adelaide
Components we can repair or replace:
Click on a heading for more information: