Lube Mobile's Mobile Tyre Service comes to you for all car tyre related services including replacement, puncture repairs and balancing.
Our Tyre Technicians arrive on time at the place which suits you the best. We arrive fully equipped to work on your vehicle so you don't have to organise alternative transport to work or your local mechanic's workshop. We cover all your mobile tyre fitting needs.
We can schedule for our local tyre fitter to meet you at home or at work – even on your holidays, so you're back on the road as soon as possible! We are your very own mobile tyre shop. If you're having issues with the a tyre going flat or simply worn out you need someone to look at the condition of your tyres.
Common signs of trouble with your tyres might include: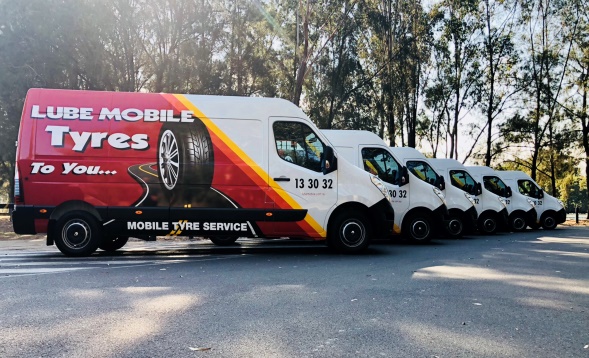 Slow leak
Tread Depth low
Slash or tear in sidewall
Noise from wheel when driving
Reduced braking or cornering performance
If you're having this trouble with your tyres it is very important you address this quickly. Poor tyres affect the safety, driveability and car reaction in emergency situations like braking and/or swerving. Lube Mobile offer vehicle mobile tyre service at the time and place which suits you. We perform our tyre replacement and fitting on-site and on time.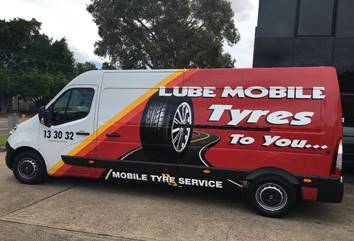 Arrive and check for safe worksite
Check condition of all tyres and spare tyre
Raise vehicle and remove wheels
Replace and balance tyres required
Refit wheels to car, lower vehicle and tidy up worksite
Check tyre pressures all round car and spare
Using our efficient online booking system, we need only a few pieces of quick information from you about postcode, your car's make, model and year. In moments you'll have selected a real arrival time from our advanced dispatch system. Once you then supply address etc. you are all booked in with a confirmation, and usually a price to supply and fit your tyres.
We use only quality replacement tyres and parts with good warranties from our suppliers. All of our service work and repairs come with a nationwide 12 month/10,000km workmanship warranty so you can rest easy if you're travelling interstate.
If you're looking for the most convenient and highest quality tyre work for your vehicle, contact Lube Mobile now. Any questions please do not hesitate to call us on 13 30 32 for friendly assistance.
Tyre Replacement Reviews
The car the mechanic worked on had been sitting idle in a carport only partially covered for 8 years. It was a mess to behold although it had been mechanically sound when put away. It was a tough ask as the car also had 4 fla lat tyres and a broken window. Ben the mechanic in my opinion went above and beyond the call of duty and the car (after a good doing over at a car wash and full interior clean and shampoo) is looki king a million dollars and runs like a dream. Couldn't be happier.Kerri, Honda Jazz, Christies Beach
The mechanic (david) went over and above on this one - exceptional service provided throughout. Thank you!Enver, West Perth
Luke and the tyre bloke were both very helpful and professional will definitely use again thank youAdam, Honda Accord, Capalaba
When dylan found out i was looking for tyres he got a quote and had lube mobile provide and fit four new tyres during the service he was doing. Much appreciated.Deidre, Nissan X-Trail, Coorparoo
I would like to say thank you for empicable service and outstanding service and would recommend you to everyone regards marcelle.cowen.Marc, Mitsubishi Magna, Burwood