Mobile Mechanic Canberra - Car Service & Repair Canberra
Fully Qualified Mechanics
-
12 Months Nationwide Warranty
-
Only Quality Parts and Oils Used
Choose Lube Mobile for all of your vehicle's service and repair needs and have a local mobile mechanic Canberra meet you at your home or place of work.
Our fully qualified mechanics offer the highest quality car service Canberra, car repairs and vehicle maintenance needs on-the-spot so you don't to leave your car at the mechanics and arrange alternative transport. Our mechanics are available throughout Canberra right now for on-site repairs and servicing.
Lube Mobile is the mechanic that comes to you, offering flexible locations and booking times which keep to your schedule, and not just your mechanic's. Our fast and easy online booking forms only require your vehicle's make, model and year details so in minutes you could have a flexible location and convenient time booked right across Canberra and surrounding regions.
We arrive suitably equipped to complete a range of service work and repairs wherever you might happen to be. Choose us to attend to your vehicle at your place of work, your home, even your holiday destination. We come with the right tools and spares for the job, and the expertise to see you back on the road as soon as possible. You receive quotes on work required before we start any repairs.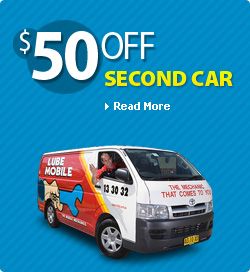 Lube Mobile's mobile Canberra mechanics offer you:
Fully qualified technicians when you need them and at a location which suits you.
All of our repair and service work comes with an Australia-wide 12 month warranty - nationwide
We use only the best quality standard parts, fluids and oils.
We offer you an call-out service for urgent repairs or breakdowns. - No tow.
Ask us for comprehensive quotes on services and repairs – either online or in person.
Use our fast, live booking facility online, or simply call us on 13 30 32.
Want to know when we can arrive. Try putting in your postcode into box above. Book your car service or repair with our quick and easy online booking process. Select the time and place that best suits you and we'll be there when you need us.
Want a Quote before? Just Click Here for our great online quoting system 24/7 !
Canberra Mechanic Reviews
- Real Customers, Real Comments
"Dean the mechanic was actually able to arrive early. At each stage of the service he explained in plain English what was going on and why. I am very happy with the service I received and would be more than happy to recommend him im to anyone else. Bruce, Hyundai Service, Canberra
"Damien is very helpful friendly explains things well. He has already quoted me for the work to be done during next service. Very happy and have already recommended him to a friend" Holden Commodore Service in Canberra
Great experience and we will using you for our business vehicles from now on! Anthony, BMW water Pump Repair in Canberra
I would like to make special mention of the service given to us by Paulo. Everytime I have called him (esp in a panic when my car broke down on the side of the road) he has always been very professional and helpful. I recommend Lube Mobile to anyone who asks. I just wanted to pass on my feedback because finding a good caring mechanic is hard to find and I believe we have found one. Natasha, Timing Belt Kit Replacement , Canberra
It was great. We had a problem with our car on a Friday evening. No one else is open over the weekend to help. I was able to book on line easily with you for a Saturday appointment time. The mechanic came to our home and t talked over what could be wrong. He did the work and was always lovely and polite. We had our car back for the rest of the weekend. It couldn't have been simpler. We were very happy with the e service provided. Thank you. Linda, Holden Log Book Service, Canberra
The overall experience and the quality of service and friendliness from the lady on the phone to the mechanic carrying out the service was exceptional the mechanic explained what was going on so i could follow exceptional service i i will be back and i will recommend to people i know thank you James , Kia Logbook Service, Canberra
Suburbs we service