Lube Mobile, the Mobile Mechanics perform repairs on cooling system and replacement Water Pump at a time and a place to suit you. If the car is running hot we recommend to not drive it. You may cause further damage. Get it checked now and dont risk by driving to or waiting for a workshop.
If you see liquid on the ground, especially if its green or red, you coolant could be leaking. If not a hose the next issue could be the water pump leaking. It is still not adviseable to drive. If you must watch temperature guage. Best thing to do is call Lube Mobile to check the water pump same or next day.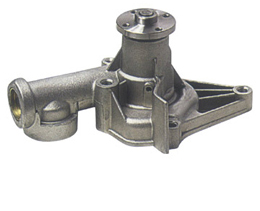 Whether your car is overheating, leaking coolant, losing pressure or any other problem, we can help. Dont drive the car when it is runing hot or over overheating or you will cause major damage. So leave the car at home and call a Lube Mobile mechanic to come to you and save the water pump from getting any worse.
We use only quality new water pumps and coolants for the long service life of your vehicle. We replace any damaged, worn or leaking parts on site. All work comes with our 12 Month/20,000km Warranty.
Once all repairs are complete, new coolant added and the cooling system is bled, we pressure test the cooling system and check for leaks from the water pump or pressure drops. We also test drive the car to ensure all is ok when the vehicle is at operating temperature and that there are no air locks.
A mobile mechanic will be fully equipped to:
Inspect the condition of your cooling system
Check your drive belt and hoses
Replace your water pump if required
Check and replace lost coolant levels
Pressure test your cooling system
Road test for safety
With the warm climate in Australia it is vital your water pump, thermostat, cooling system, and fan belt are in tip top shape. Overheating engines are very costly to replace. We will give you a price on the water pump before starting any work so you are in control of cost.
If you have experienced the trials and tribulations of attempting to coordinate your schedule around your mechanic's timeframe then you already know that a Lube Mobile mobile mechanic available at your place of work or at your home is a much more convenient option - escpecially when it is a cooling system issue. Our mechanics perform everything you need on-the-spot and on time.
Lube Mobile is the mechanic that comes to you. Choose our fast and easy online booking form to select a flexible location and "live" booking times from our coordination system that will match your availability and not your mechanic's schedule.
You can book this online now, enter postcode above for a time and price of a water pump or ask one of our frindly operators on 133032 for more informative discussion.
Water Pump Replacement Reviews
The mechanic arrived earlier than scheduled which for me was fantastic and communicated the whole time before his arrival. He knew his stuff and would recommend him to anyone requiring this service. Phillip, Water Pump Repair, Melbourne
Really liked that you provided a written quote for the work to be done which was very reasonable for the work done. The mechanic (Marc) was professional and friendly. Felt very comfortable with him at my home and will definitely us use him again & recommend to friends. Catherine, Holden Water Pump, Adelaide
The mechanic Ben was Awesome!! His advice on completely fixing problem as opposed to a bandaid fix which would be cheaper was invaluable. He was helpful and friendly. Very happy with his work. Charm, Holden commodore Water Pump, Adelaide