Have your car battery tested and/or replaced on-the-spot by fully qualified mechanics from your local Lube Mobile Mechanic. We offer a complete battery test and service at your location – be it home or office – and a complete car battery replacement with an Australia-wide warranty on service and repairs.
Car won't start? Engine not turning over? Are you stuck somewhere?
Charging light is on?
Ticking sound when turning the key?
Flat battery?
Need a mechanic to check the car properly?
Call us – 13 30 32 – or book a Battery online now above, starting wioth your postcode for a local Lube Mobile mechanic available in your area.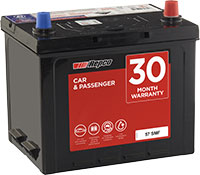 When you call Lube Mobile mechanics to your chosen destination we arrive on time, fully qualified and equipped for a range of car service needs and repairs.
Our friendly mechanical specialists can offer a complete, written quote on any additional repairs required for your car.
Lube Mobile can:
Replace your car battery
Test your alternator
Check your starter motor functions and starting system
Check the drive belts and pulleys
Do the job thoroughly and fast so you're back on the road sooner!
We can even replace your alternator or starter motor if required and all repairs completed are done on site, right where you happen to be at the time.
Fully Qualified Mechanics and Top Quality Parts
We use only the best quality spare parts and brands – including engine oils and greases – and all Lube Mobile services and repairs come with a nationwide 12 month/20,000km warranty.
Don't be inconvenienced by location and a busy schedule. Choose the mobile mechanic that comes to you – wherever you are – and let Lube Mobile make sure you are back on the road as soon as possible.
Car Battery Replacement Reviews..
Danny who changed the battery in my car was terrific. If I ever have a car problem again I will give him a call. Thanks for the great service. Sue, Toyota Corolla Battery Replacement, Wollongong
Yes two things. First I was very impressed with the timeliness and frequency of phone calls that I received to alert me of when the mechanic was going to arrive thank you they were greatly appreciated. Second I was also very i impressed with the professionalism diligence and attitude of my mechanic Shaun who was a pleasure to deal with and certainly a good ambassador for Lube Mobile. Brad, Jeep Wrangler, Battery Replacement
We are very satisfied with the service from Lube Mobile. The mechanic on the day was extremely prompt, courteous, friendly and professional. Well done!
Anne, Hyundai Tucson, Fit New Battery
Your staff must be commended. For once a company that did what they stated it would do. From first contact (as I had special circumstances for your people to contend with) your staff were very helpful & problem solving which made the whole experience a relief for me. I am grateful to your staff - they acted for service in the highest standard. Please thank them.
Leith, Holden Commodore, Supply & Fit Battery
The repair job just ended up being a battery change however it was done swiftly and the whole process (of assessing the old battery going to buy another etc.) was explained to me in advance and to my satisfaction. Telephone staff were cheery and helpful. All round a good experience - thank you :)
Adam, Mazda 121, Supply & Fit Battery
Wally (mechanic) went above and beyond for me to ensure I had my car up and going for Anzac day. I will always use you now because of his exceptional work and friendliness.
Danielle, Subaru Impreza, Supply & Fit New Battery
Jason was the mechanic who attended my job. He was very helpful and very professional. Jason is a credit to your company and I will be using Lobe Mobile for all my mechanical needs from now on. Keep up the good work.Chrysler Battery Replacement Sydney
Components we can repair or replace:
Click on a heading for more information: